Article Databases
Covers Biblical studies, world religions, church history, and religious perspectives on social issues. Includes more than  814,000 citations from articles, essays, and book reviews, with a growing number of multimedia citations. Full text is provided for more than 266,000 electronic articles and book reviews, from more than 130 journals.
Provides access to an index of English language articles and reviews from an evangelical perspective.  Includes most titles from 1976 to the present.
Provides extensive coverage of such topics as world religions, major denominations, biblical studies, religious history, epistemology, political philosophy, philosophy of language, moral philosophy and the history of philosophy.
Dissertations & Theses
Includes millions of searchable citations to dissertations and theses from around the world from 1861 to the present day, together with over a million full text dissertations that are available for download in PDF format. The database offers full text for most of the dissertations added since 1997 and retrospective full text coverage for older graduate works.
Theological researchers should also try RIM: Research in Ministry and TREN.
Reference Books
Atlas of the Christian Church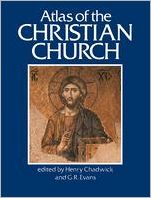 Maps, illustrations, and text provide a survey of the Christian tradition through two thousand years.
Available in print (BR 98 .A74 1987 – Reference Collection)
Encyclopedia of Christianity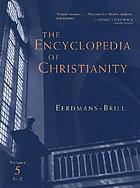 Describes Christianity through its 2000-year history within a global context, taking into account other religions and philosophies.
Available in print (BR 95 .E8913 1999 – Reference Collection)
Encyclopedia of Early Christianity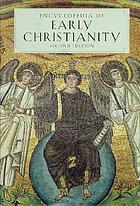 Covers persons, places, doctrines, practices, art, liturgy, heresies, and schisms. –From preface
Available in print (BR 162.2 .E53 1997 – Reference Collection)
Oxford Dictionary of the Christian Church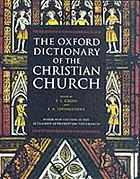 Available in print (BR 95 .O8 1997  – Reference Collection)
Oxford Encyclopedia of the Reformation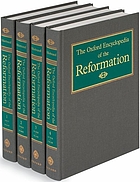 Includes information about the entire range of religious and social changes of the Reformation, encompassing not only issues of church polity and theology but also developments in politics, economics, demographics, art and literature.
Available in print (BR 302.8 .O93 1996  – Reference Collection)
Books
Try some of these subjects to find library materials for your topic.
Church history–18th century (change the century for different results)
Church history–Middle Ages, 600-1500
England–Church history (change the country for different results)
Websites
A select database of digital books relating to the development of theology and philosophy during the Reformation and Post-Reformation/Early Modern Era (late 15th-18th c.). Late medieval and patristic works printed and referenced in the early modern era are also included.
A digital library of 76,717 books and journals on theology, church history, and biblical studies, including 26,783 volumes from the Princeton Theological Seminary Library.