BIBL 2553: Biblical Interpretation (CAPS)
Databases
Article database that covers Biblical studies, world religions, church history, and religious perspectives on social issues.
Provides access to six Oxford editions of the Bible along with commentary, annotations from study Bibles, and reference material that can be viewed alongside primary text.
Reference Materials
List of commentaries on Ephesians owned by the library. Most are print copies, but you can limit your search results to ebooks on the left side of the screen to see the library's electronic copies.
Concordance
Strongest NIV Exhaustive Concordance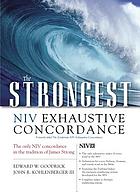 Available in print (BS 425 .G62 2004 - Reference and Ready Reference Collections)
Dictionaries/Encyclopedias
Anchor Bible Dictionary
Available in print (BS 440 .A54 1992  – Reference Collection)
International Standard Bible Encyclopedia
Available in print (BS 440 .I6 1979 – Reference and General Collections)
Dictionary of Paul and His Letters
Available in print (BS 2650.5 .D53 1993 – Reference Collection)
Dictionary of New Testament Background
Available in print (BS 2312 .D54 2000 – Reference Collection)
Word Studies
Mounce's Complete Expository Dictionary of Old & New Testament Words
Available in print (BS 440 .M63 2006 – Reference Collection)
New International Dictionary of Old Testament Theology & Exegesis
Available in print (BS 440 .N438 1997   – Reference and Ready Reference Collections)
New International Dictionary of New Testament Theology
Available in print (PA 881 .N49 1986 – Reference Collection)